It's almost time! There are just a few weeks to go until the
5th edition of Rubyday
, the annual get-together of
RubyItalia
: the association representing Ruby developers and the Ruby ecosystem of gems and frameworks (such as Ruby on Rails) in Italy. Cantiere Creativo \ LeanPanda, together with two other companies —
Nebulab
and
Welaika
—
have decided to take part in organizing the 2015 event
.
Estimate reading 1 minutes
The seeds of all this were seen during last year's Rubyday where, as developers and passionate rubyists, we felt a need to begin actively contributing to the event's organization. We wanted to help the conference grow and develop to become a point of reference for solidity and quality at a national level, both for the old guard and for young people looking to participate in the world of ruby. We also wanted to give the event and international flavour, bringing it closer to the European conferences that we often attend. These are the goals we've been working towards over the last few months. Our efforts have born more than a little fruit, and we hope that they'll be appreciated!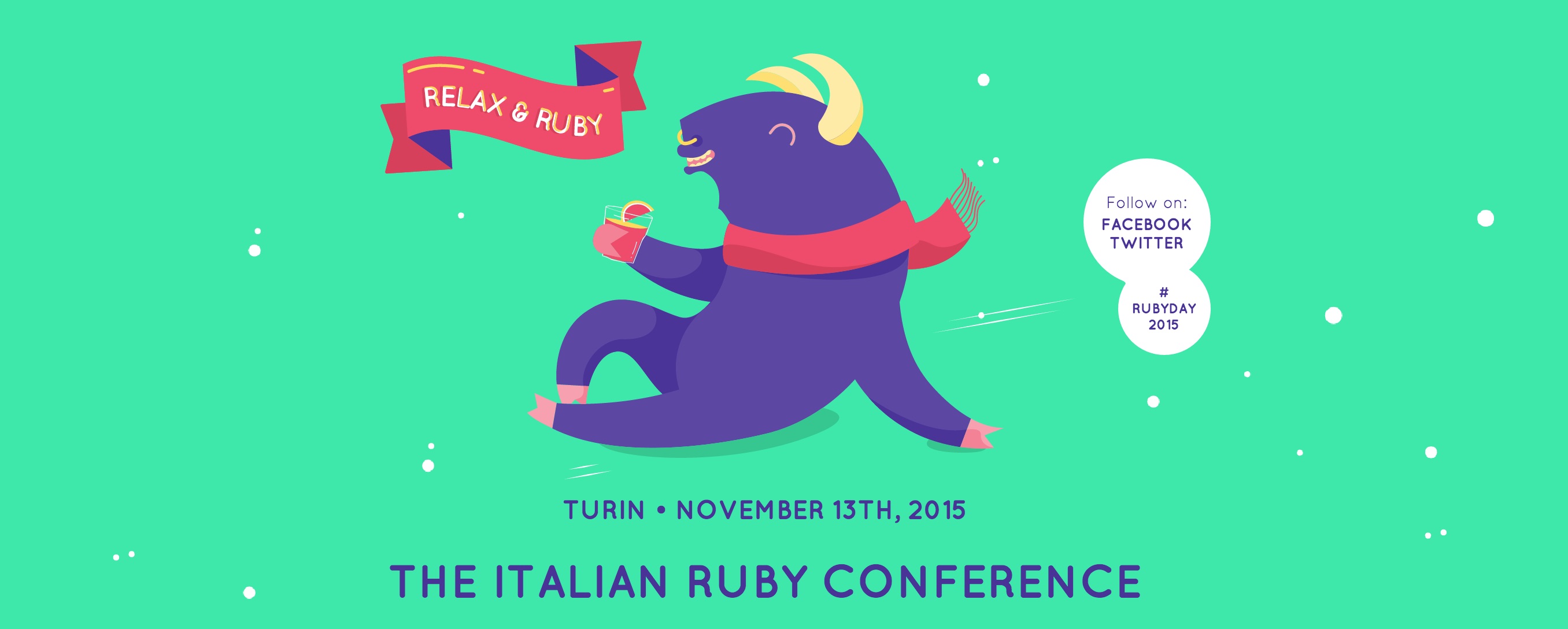 New developments
With regard to the logistics of the event, the first thing that's sure to be noted is our decision to introduce tickets. While it's true that everyone likes to hear the word free, a contribution helping to cover the costs of the event makes it possible for us to offer higher standards of quality during an intense and, we hope, enjoyable day. Thanks to the numerous sponsors who are supporting us, we've been able to keep the cost down. In this way, in addition to a very respectable event location, we will be able to offer all participants lunch and a fantastic T-shirt included in the ticket price!
We've been working hard to draw up the event programme (a difficult job when so many proposals arrive!). We have chosen to invite numerous foreign speakers to inspire us with their ideas, meaning that many of this year's talks will be English.
The plan is to have two tracks working simultaneously: the first track will centre on exchanges between developers who have experience of ruby and of the new technological developments that are taking place within the ruby community, in particular those relating to web development. Topics covered will include ReactJS, Elixir and JSON API. Here developers will have the opportunity to share their Ruby insights and experiences with one another. The second track, in contrast, will be designed for those who are coming to Ruby for the first time or are only now beginning to experiment with the language. It will take place in a dedicated room and will feature, amongst other things, workshops explaining best practices for organization, security and micro-services.
The programme for #rubyday2015
Where is Ruby Day 2015?
We'll be waiting for you in Turin (Italy) on Friday, November 13, at the extremely central Hotel Majestic (located in front of Torino Porta Nuova railway station): a majestic 19th century building decorated with magnificent Art Nouveau windows, which is sure to make it a special day! Here some info about Turin.

Once the fun is over, we'll be publishing an account and evaluation of our experiences; as things stand, we can already say that it will be a pleasure and honour for us to participate again next year, in order to make it even better!
### Ask for a 10% discount coupon!
**There are very few tickets left! Ask for a coupon via Direct Messagge at our [twitter account @pandadevs](https://twitter.com/pandadevs/) [ to buy yours now with 10% discount!!](http://www.eventbrite.com/e/italian-ruby-conference-tickets-16336220074)!** :)